De nieuwe ROTANET CONTROL roterende schoffel is een revolutie op het gebied van mechanische onkruidbestrijding. De machine heeft het testseizoen erop zitten, onder andere in Nederland, met als resultaat zeer enthousiaste gebruikers.
Na de officiële presentatie op de Agritechnica 2019 in Hannover heeft een aantal machines uit de 0-serie een uitgebreide test ondergaan in geselecteerde Europese landen. In Nederland had Carré Premium dealer Van Gemeren Mechanisatie uit Numansdorp de primeur met een ROTANET Control die is geleverd aan akkerbouwbedrijf Nieuw Bonaventura in de Hoeksche Waard. Dhr. Reedijk, eigenaar van het akkerbouwbedrijf ligt toe; "Het is een echte capaciteitsmachine, klaar voor de toekomst". Het grote voordeel van de machine ziet hij in de capaciteit; "Deze is een stuk hoger dan een schoffelbalk met alle toeters en bellen erop". De werkbreedte van 6,40m sluit perfect aan op het rijpadensysteem van 3,20 meter die bij Nieuw Bonaventura wordt gehanteerd.
Gepatenteerd systeem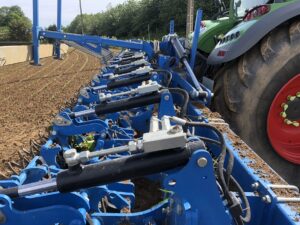 Een gepatenteerd systeem zorgt voor een gelijkmatige druk en werkdiepte van de sterwielen tot een verschil in hoogte van 15cm. Hierdoor is er ook in eventueel aanwezige rijsporen een gelijkmatige  bewerking mogelijk. De sterwielen zijn gegroepeerd per 6 en opgehangen door middel van een parallellogram. De druk op de wielen kan vanuit de cabine worden afgelezen en wordt hydraulisch ingesteld tussen de 18 en 29 kg waardoor de bewerking precies aan de bodem en het gewas kan worden aangepast. De ROTANET Control is verkrijgbaar in werkbreedtes van 4,8 tot 7 meter. De werksnelheid van 9 tot wel 20 km/h garandeert een enorme capaciteit zodat de effectiviteit van onkruidbestrijding binnen het beperkte tijdsvenster wordt gemaximaliseerd.
Korstvorming verhelpen
De sterwielen met lepelvormig uiteinde zorgen dat de korst breekt en werpen onkruidkiemen en grond op. Voor kwetsbare gewassen of planten in een vroeg groeistadium kunnen de wielen individueel mechanisch worden uitgeheven zodat de bewerking tussen de gewasrijen of juist alleen in de gewasrij plaatsvindt. Afgelopen voorjaar zag men in diverse regio's hardnekkige korstvorming waardoor het kiemende gewas geen kans kreeg om boven te komen. Door de korst te breken met de ROTANET CONTROL heeft men een goed alternatief voor bijvoorbeeld beregenen. De ROTANET zorgt voor lucht in de bodem zodat het gewas weer ruimte krijgt om te groeien.
Benieuwd naar de werking van de ROTANET CONTROL? Voor meer informatie neemt u contact op met onze specialisten.