Crop Catcher does what its name promises: it eliminates seed losses caused by shattering of the retractable fingers on the auger. Another advantage is that no seeds are smashed and thrown over the back of the header, nearly eliminating volunteer weeds. This is particularly valuable for sugar beet crops following oilseed rape where volunteer seeds can cause severe problems with harmful cyst nematodes. It also reduces costs for tillage and spraying. Crop Catcher in addition eliminates build-up of seeds and chaff on the feeder house, not only maximising operator view, but also keeps your feeder house clean so you never have to clean it again!
Available for all combine header models
Now available as a retrofit / DIY-kit for just € 899 Crop Catcher offers instant return on investment; money in your hands, not on the ground! Crop Catcher is available in different colours for virtually all types and makes of combine harvesters and headers.
Crop Catcher Benefits:
Reduced losses on the combine header: reduces loss of OSR rapeseed, beans, peas and grains
eliminates seeds being thrown over the header rear wall: eliminates volunteers
One-size-fits-all: available for all main combine header models. Different colors available for Claas, John Deere,
Clear view from operators cab: UV resistant Lexan sheet
Keeps the feeder house clean: eliminates build-up of seeds and chaff on the feeder house
Low-cost solution for reducing losses and volunteers
Summer Season Offer |  Save now and eliminate volunteer weeds! order your Crop Catcher now for just EURO € 899*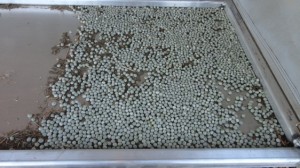 the picture shows peas being caught by the Crop Catcher after after just 1,5 ha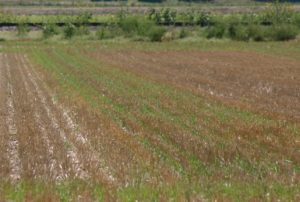 wheat volunteers commonly seen as on the picture can simply be eliminated after fitting the Crop Catcher on your combine!
100% yield | 0% volunteer weeds has never been that easy!
* Summer-season offer Crop Catcher:
> valid upon order intake no later than 1st August
> pricing excl. VAT and is Ex Works (EXW) Vroomshoop, The Netherlands